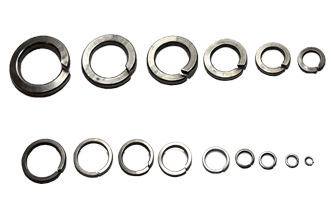 We manufacture and stock spring washers in every material such as Brass, Copper, Aluminium, Fibre, Mild Steel (M.S.), Stainless Steel (Grade 201,202,304,316, 316L, 400 etc), Carbon Steel, Spring Steel, High Tensile Steel, Rubber, Plastic, Teflon Etc. Washers are available as per Din, Indian Standards (I.S.), Japanese Standards (J.S.), British Standards (B.S.) & American Standards. Special Washers can be manufactured as per I.D., O.D. & thickness requirement, as per your drawing or as per the sample you provide.

These are also known as Lock washers and are available in Flat and Square Sections.
Material in Stock: - Mild Steel(M.S.), Stainless Steel (S.S.) grade 202, 304, 316, Brass
For more information on the rates kindly send us an enquiry.